Back to all posts
Posted on
A Wonderful Night at the Sweetheart Soiree!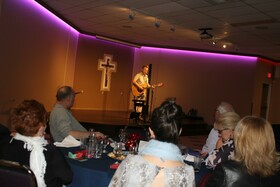 The Sweetheart Soiree, An Evening with Martin Kerr was held on February 9, 2019, at Holy Family Parish. The evening included musical entertainment from the very talented Martin Kerr, a delicious French dinner prepared by the Knights of Columbus, a silent auction and a photo booth that transported guests to Paris. A wonderful evening was had by all who attended.
The Education Foundation would like to thank all the community partners who generously donated silent auction items. We also thank Holy Family Parish for allowing us to use the parish hall and for supporting Catholic Education by allowing the Education Foundation to sell tickets after mass. Your support is truly appreciated! Donors include:
Martin Kerr, Man Cave, Mission Fun and Games, Bead Patch Creations, Tyler & Anne Hanson, Sobeys, Sorrentino's Italian Restaurant, Tri Star Controls, Mastermind Toys, Chapters, Clement & Rosaleen McEvoy, Mercato Foods, Memory Roth, Dave Beattie, Extreme Creations, The Oil Kings Hockey Organization, Alyssa Frew, Tudor Glen Veterinary Hospital, St. Albert Source for Sports, Costco, Allan Menduk, Raw Beauty Hair Salon, Funky Petals Flower Shop, District Moto.
Lastly, thank you to everyone who came out to support the Education Foundation. Proceeds from the event will support students in our district. 
Sweetheart Soirée - an Evening with Martin Kerr
On February 9, 2019, the Education Foundation hosted a fundraising evening at Holy Family Catholic Parish. Guests were treated to a delicious French-themed dinner, musical entertainment by Martin Kerr, a silent auction and a fun photo booth that transported guests to Paris.