News
Posted on Jun. 2, 2020
The 2019-20 Scholarship for the Future Application Form is now available. Please review and apply on or before July 31, 2020, as per instructions.
Posted on Jun. 1, 2020
The deadline for the Education Foundation Group Futures Grant Program has been EXTENDED from April 30, 2020 to the Fall.  With the suspension of classes in March 2020 for the remainder of the year,…
Posted on Mar. 17, 2020
Due to the evolving situation around COVID-19, the scheduled March 31, 2020 AGM has been postponed to a later date, not yet determined.    
Posted on Feb. 14, 2020
Join us at the Education Foundation's Annual General Meeting (AGM) on March 31 and be a part of building a better future for the students in our Division! Mark your calendar: Tuesday, March 31, 2020…
2019
Posted on Feb. 11, 2019
The Sweetheart Soiree, An Evening with Martin Kerr was held on February 9, 2019, at Holy Family Parish. The evening included musical entertainment from the very talented Martin Kerr, a delicious French…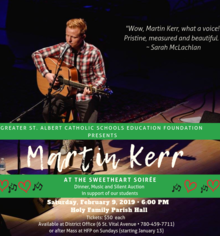 Posted on Jan. 8, 2019
Greater St. Albert Catholic Schools Education Foundation is pleased to present an evening with Martin Kerr at the Sweetheart Soirée.  On February 9, please join us at the Holy Family Parish Hall for…
2018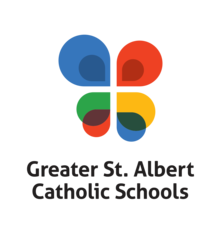 Posted on Oct. 25, 2018
The Greater St. Albert Catholic Schools Education Foundation is proud to announce that two scholarships were awarded at the St. Albert Catholic High School Awards Night on October 24, 2018. The "Scholarship…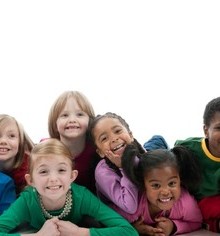 Posted on Oct. 24, 2018
We are searching for passionate volunteers who are committed to enhancing the student experience and spiritual opportunities through a variety of initiatives.  As a volunteer, you will have an opportunity…
2014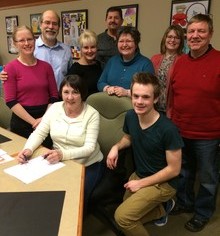 Posted on Aug. 7, 2014
On March 26 the Foundation board members sat down to sign off on the Foundations Bylaws. The next step will be for the Foundation to apply for a Certificate of Incorporation from the Corporate Registries.