Online Fundraisers
Lucky 50/50 winner takes home $7,125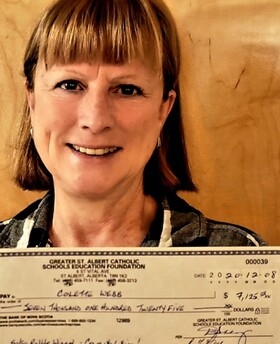 The Foundation's first 50/50 Cash Raffle raised $14,250 (from a possible $20,000) and the lucky winner, Colette Webb, with ticket number B-28199, took home half the jackpot in the draw held on December 8, 2020 @ 7:00 pm at Ecole Secondaire St. Albert Catholic High School  - a welcome $7,125, just in time for Christmas!
Thank you to all who supported the Raffle!  It was a great effort during this COVID-19 pandemic to support the Foundation's fundraising efforts. All remaining proceeds, after raffle expenses, were designated to support the three projects chosen below, for a total of $7,200.
Ecole Father Jan and Sister Alphonse Academy each received $2,350 for technology, and JJ Nearing received $2,500 for a Remedial Reading Program.
Fall 50/50 Online Fundraiser
If you are over 18 and live in Alberta, please join us in a progressive 50/50 Cash Raffle Fundraiser supporting GSACS Foundation.
 (Click here to buy tickets)
Funds raised will support school or classroom needs which demonstrate enhanced learning opportunities for students within Greater St. Albert Catholic Schools, evoke or promote student passion and engagement, support innovation within the classroom, and promote faith, the development of relationships with one another and with God, foster community spirit, and build hope. AGLC License # 567025
Ticket sales end:  December 3, 2020; 11:59 pm
Draw Date:  December 8, 2020 - 7:00 pm; St. Albert Catholic High School
Supporters can access a minimum of $4,000 or half the final pot, up to $10,000, in extra Christmas Cash.