Foundation Scholarships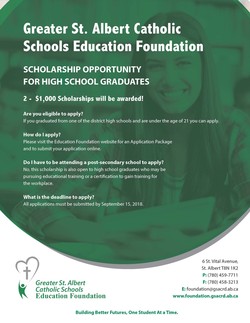 The GSARCD Catholic Education Foundation is happy to announce that is is offering two $1,000 scholarship opportunities to GSACRD high school graduates.  The application package can be found here:  https://goo.gl/forms/63aaZERvr2I7D9g53. 
or click on the image to view and print the application directly.
Good luck to all who apply.
June 2014 Bylaws
Please view the approved bylaws for the Foundation.
Certificate of Incorporation
The Foundation was incorporated under The Societies Act on July 11, 2014.
Charitable Status Received
In April 2016, the Education Foundation received charitable status from the Canada Revenue Agency. This will allow the Foundation to proceed with plans to receive donations and raise funds.