Back to all posts
Posted on
2019 Foundation Scholarships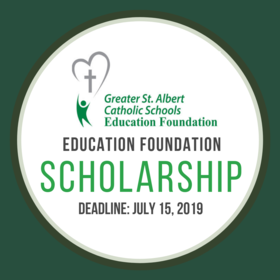 Every year the Greater St. Albert Catholic Schools Education Foundation provides two, $1000 scholarships, to the two most eligible applicants as decided by the Education Foundation Board of Directors. Successful applicants will have demonstrated a commitment to service in their community, an appreciation of the unique opportunities offered by being a GSACRD student, and a plan for their future.
Are you eligible to apply?
If you graduated from one of the district high schools and are under the age of 21 you can apply.
How do I apply?
Please visit the Education Foundation Scholarship page for an Application Package and to submit your application online.
Do I have to be attending a post-secondary school to apply?
No, this scholarship is also open to high school graduates who may be pursuing educational training or certification to gain training for the workplace.
What is the deadline to apply?
All applications must be submitted by July 15, 2019.